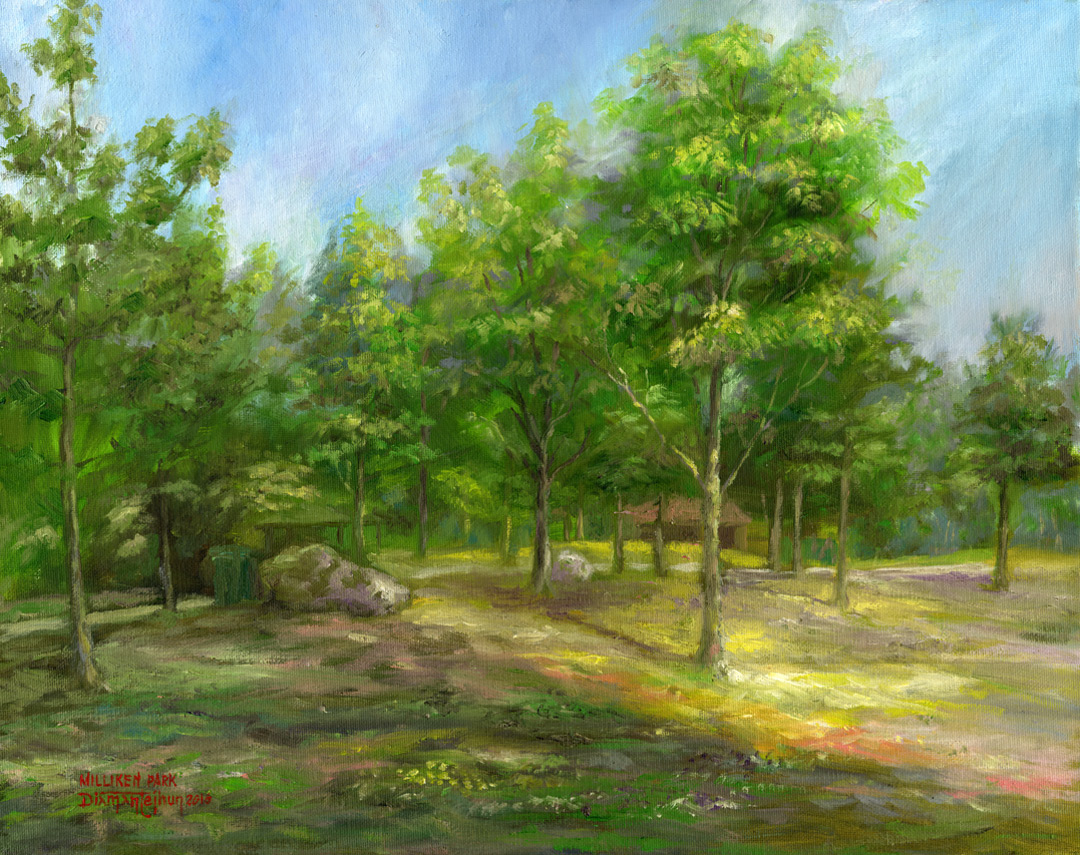 Milliken Park
Artist: Jhun Ciolo Diamante
Oil on canvas
20″ x 16″
2016
An on-the-spot painting on July 2016 in memory of "Inay" at Milliken Park and a birthday celebration of "Tatay"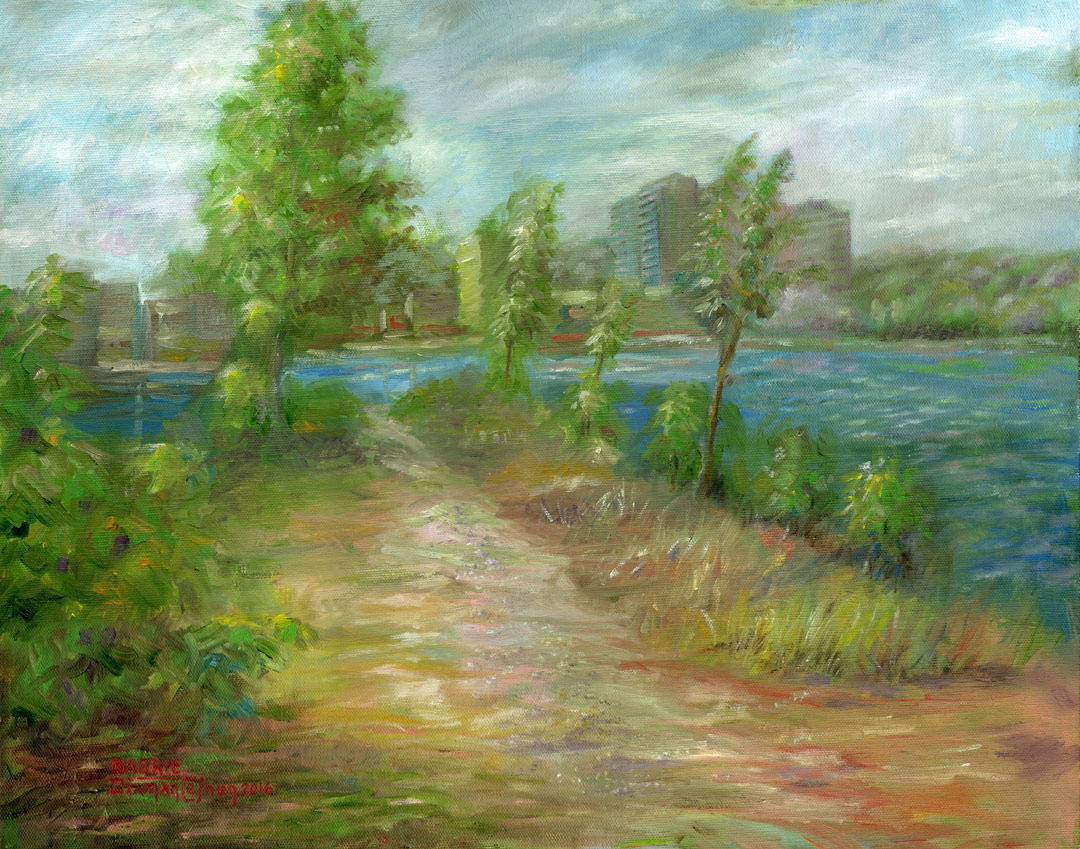 Barrie
Artist: Jhun Ciolo Diamante
Oil on canvas
20″ x 16″
2016
An on-the-spot painting in Barrie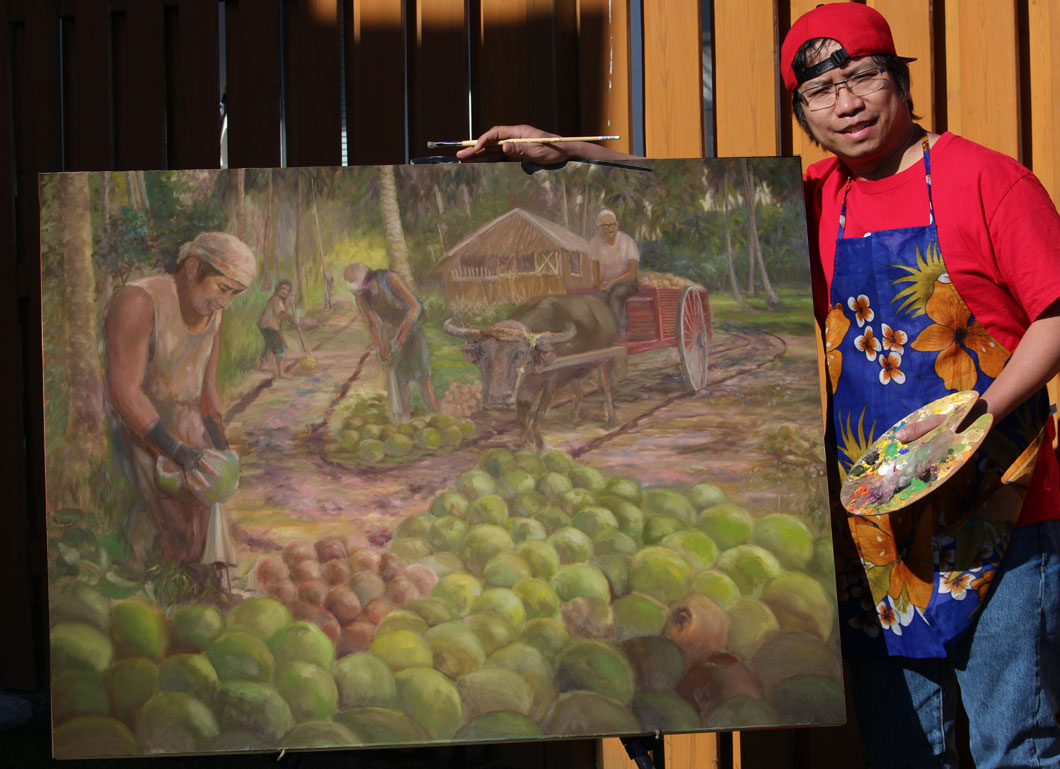 Coconut Harvest
Artist: Jhun Ciolo Diamante
Oil on canvas
48″ x 36″
2016
In this painting, the artist expressed the traditional process of harvesting coconut in the City of San Pablo, Laguna. The main subject of the painting is a young guy removing the husks from the coconut using a sharp pointy vertical metal framed on a wooden stand. Next to him is another man doing the same task. Between them is a young boy picking all the coconut from the ground using a long rod with a pointy metal. Further on the background is the man using a long pole with a sharp curved knife to pull the coconut from the palm trees. Another character in the painting is an old man on a carabao cart collecting all unhusked coconut to be delivered to the market.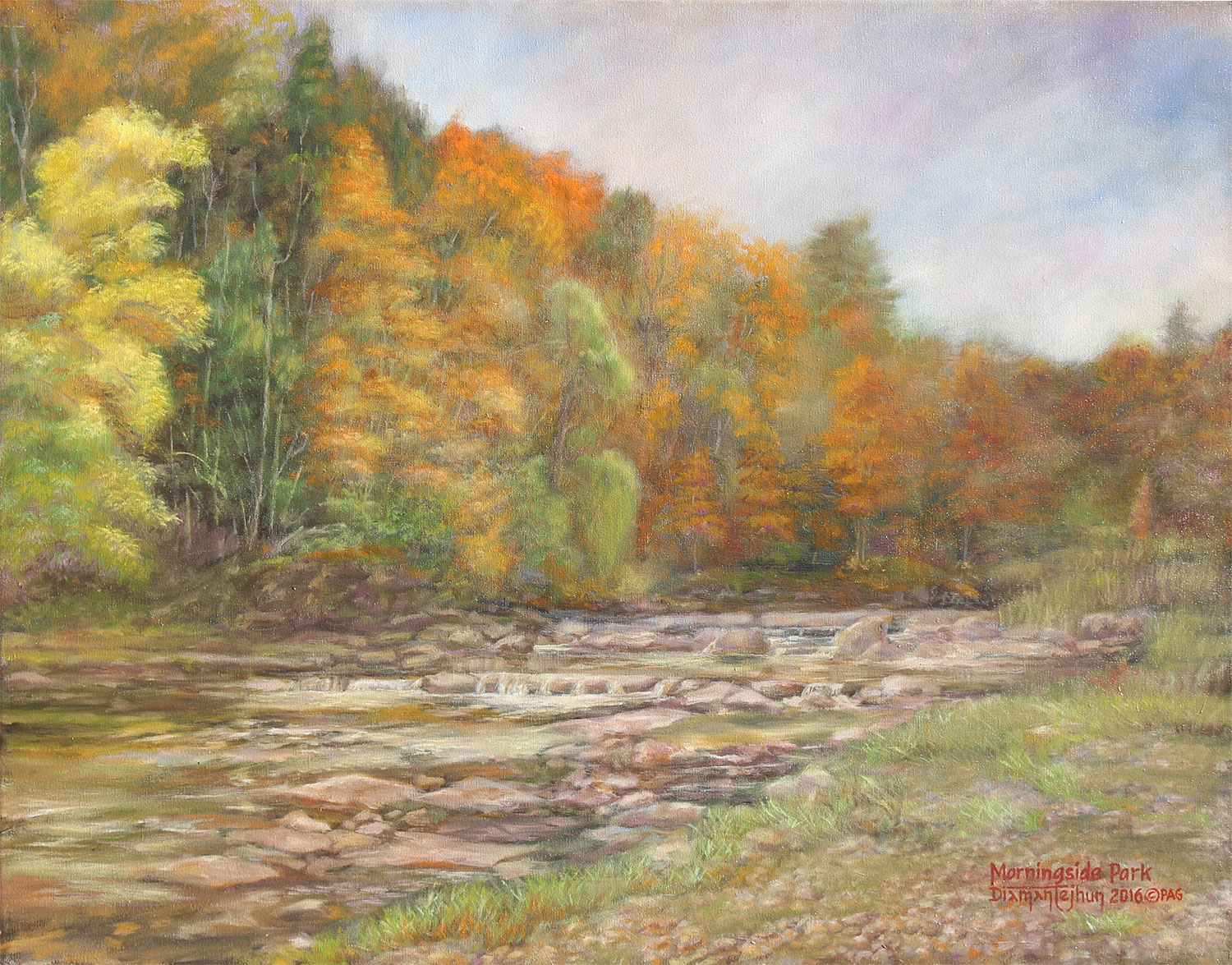 Morningside Park
Artist: Jhun Ciolo Diamante
Oil on canvas
27.75″ x 22″
2015
A painting, "Morningside Park" is an on-the-spot original oil painting by Jhun Ciolo Diamante during autumn season in Scarborough 2015.
---
Jhun Ciolo Diamante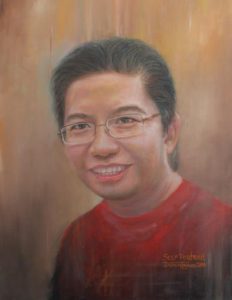 Jhun, a self-taught artist was born in San Pablo City, Laguna, Philippines. He is the third eldest of eight children. As a child, he always amazed his classmates in drawing cartoons and animals like carabaos, goats, pigs, and comics heroes etc.
Jhun's artistic journey started early on as a primary school student when he joined the on-the-spot drawing contest and bagged the first place award in the Elementary Division. He went on to join local contests and finally won the on-the-spot drawing contest in his childhood town, San Pablo City. Since then, Jhun received several medals and recognition at early age.
In 1982, Jhun won another Gold medal in one of the major competition sponsored by the Rotary Club of San Pablo City – the "On-the-spot at the park" – during which he painted the statue of Dr. Jose Rizal at the main plaza of the city besting the city's talented artists. As an architecture college student, he further honed his talent in arts. He was recognized with his artistic talent in color rendering and illustrations of buildings and designs. He received his Bachelor's degree in Architecture in 1989.
Jhun met Judy Mercado Romero in 1989 while working as graphic artist in Makati through a friend and officemate – Noemi. After a year of working in Bahrain, he eventually married her in 1991. The couple decided to stay in Bahrain, where their two sons were born. The eldest, Joshuanimrod, was born in 1992 followed by Janbonjov in 1993. They spent seven and half years in Bahrain and migrate to Toronto, Canada in 1997. Their youngest son, Jonray was born in 2000 in their new country.
Jhun's first years as a painter in Bahrain were very exciting. He met a lot of Filipino artists. It is no surprise that majority of the working artists in advertising agencies in downtown "Manama" were Filipinos. They formed a Group of Filipino Artists and held several group art exhibits in the country. Their art shows were recognized by the Shaikhs and Royal family members. Also during his stay in Bahrain, he joined the international arts exhibits participated in by hundreds of artists from different parts of the world held at the Bahrain National Museum.
During his last exhibit prior to his family's Toronto sojourn, Jhun was interviewed and featured in the Bahrain TV together with some of his fellow Filipino Artists.
In 1997, Jhun brought his family to Canada and his first job as web designer creating customized automotive websites helps him improved his technical skills. He produced work of the highest quality for numerous high profile companies and has gained recognition as a dynamic creative designer for automotive websites. His first employer moved to Florida.
Jhun is an extremely detail-oriented individual and has a proven ability to manage large and varied workloads with minimal supervision. He possesses strong technical and analytical skills, and won the Bell Action Recognition Program of "SPEED" on November 2001. Jhun has also demonstrated first-rate communication and interpersonal skills. He works happily and productively in a team environment in the Toronto downtown business center as a web designer.
At work, in early 1998, he met a fellow artist and founding member of the Philippine Artists Group of Canada (PAG) – Romi C. MananQuil (a former U.P. Professor; www.mananquil.com). This led to his joining the group and became the first of several young talents that brought more vigour to the PAG. Steadfastly, Jhun became an invaluable member and was elected as its secretary for two years. However, his mastery of the modern computer and creative web designing made him the group's computer guru and permanent webmaster of the internationally acclaimed website: http://www.philippineartists.com. This multi-talented artist continues to awe people with his wizardry in using the computer as a digital canvas when not indulging in his outdoor painting.