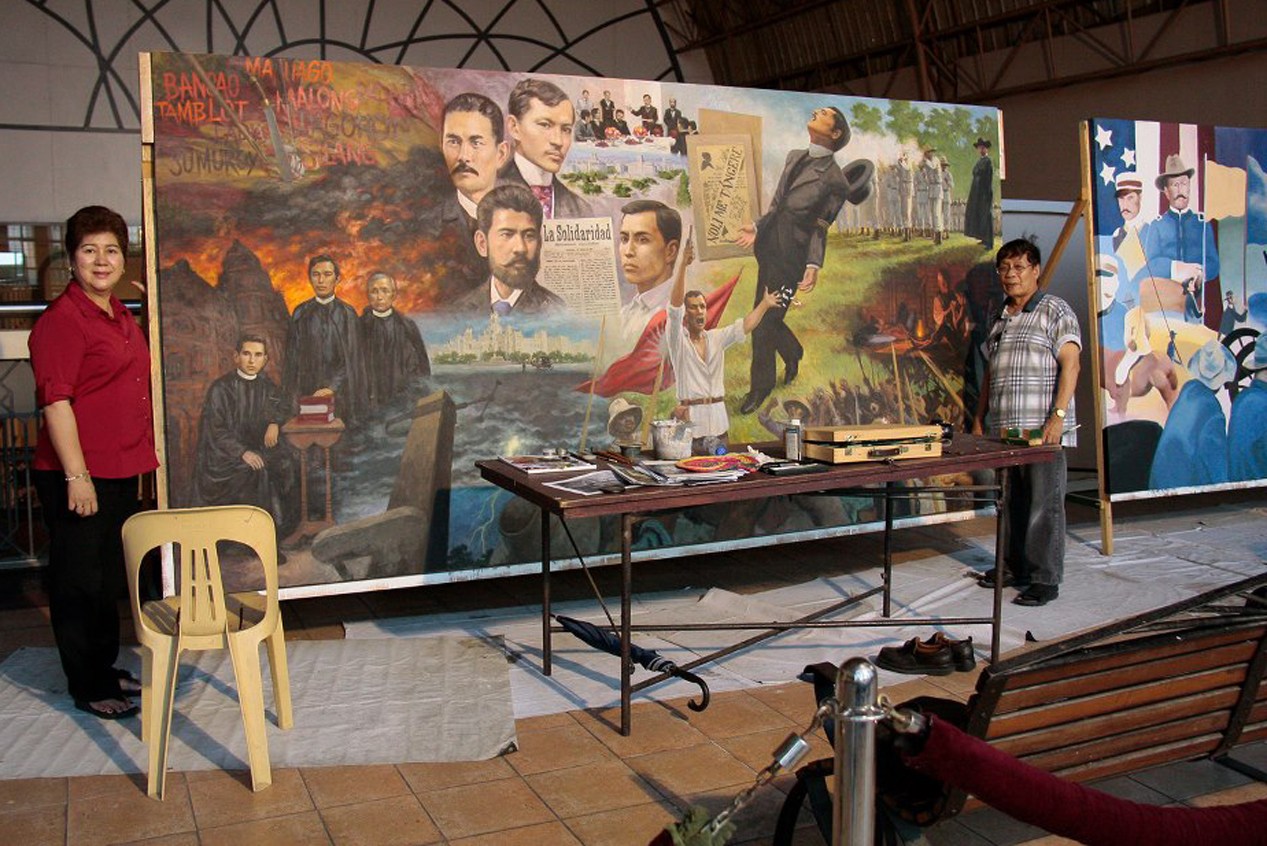 2011: In a mammoth joint project by the University of the Philippines, the UPAA and the Araneta Centre, Mananquil was among the 30 UP artists (including National Artist Bencab) invited to paint the 30 mural paintings on Philippine history in celebration of the UPAA centenial and the Araneta Coliseum's Golden Jubilee. He was also the only artist based outside the Philippines (in Canada) and the only one supported by an outside organzation (UPAA Toronto). His 6' X 12' was titled "Himagsik", featuring the Filipinos' long struggle, both peaceful and armed, for Philippine independence from the regional uprisings to the Katipunan 1st Cry of Pugadlawin.
Romi Castillo Mananquil
Romi C. Mananquil graduated in 1963 from the University of the Philippines with a Bachelor's degree in Fine Arts, cum laude. He worked in a couple of advertising agencies but later distinguished himself as a top illustrator for books, comics & magazines. He went back to serious painting in the early seventies joining numerous group shows. Later, he joined the faculty of the College of Fine Arts as Instructor and later on became Chairman of the Department of Visual Communications as Assistant Professor. He was appointed Artist-in Residence in 1985.
The Bangko Sentral ng Pilipinas commissioned him, together with two other artists, to design the 1983 series of bank notes and coins, which included the P1,000 bill that is still in circulation today. Highlight of his design in the series is the independence declaration scene originally featured in the now demonetized 5-peso bill and adapted again in the P100,000 Philippine centennial commemorative note.
Mananquil played an important role in organizing Filipino artists in northern America when he migrated to Canada in 1985. He founded the Philippine Artists Group (PAG) and was President for 14 years. His group aims to unify Filipino artists and propagate Philippine visual arts in the region. In 2004, he organized the 1st PAG show in Manila followed in 2006 by a 3-man show with former UP classmates, Dan Dizon and now National Artist Bencab.
MananQuil is now one of the more established Filipino artists in Canada. He has been a member of the prestigious Portrait Society of America for several years now. Recently, he was the only one from Canada to be invited as gallery artists, composed predominantly of Americans at the new Bridges gallery in the U.S.
• 2012 Was among the recipients in Canada of the Queen Elizabeth II Diamond Jubilee Medal to commemorate the 60th Anniversary of the Queen of England's Ascension to the Throne.
• 2013 April 5 Was one (for Visual Arts) of the 5 recipients of the ASNA Award trophy and certificate, notably the highest and most prestigious award to outstanding Pangasinenses given personally by Governor Amado Espino at the highlight presentation ceremonies of the 433rd Founding Anniversary of Pangasinan at the newly renovated and very classy Sison Auditorium in Lingayen. His name is now permanently engraved among others at the ASNA Park behind the auditorium.