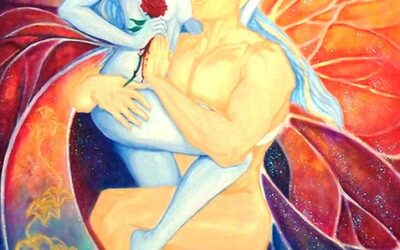 Love Takes Flight Medium: Acrylic on canvas Size: 24" X 36" Artist: Michelle Chermaine Ramos Price: Prints for sale Year: 2009
Michelle Chermaine Ramos
Michelle Chermaine Ramos is a multi-disciplinary artist in various art forms including visual arts, multimedia & creative writing. As a self taught artist, she became a published cartoonist at the age of 11 and continued to draw comic strips for local magazines for the next 3 years. After trying realism she discovered there was nothing more rewarding than taking on the challenge of painting realistic portraits and symbolic illustrations.
Torn between her love for creating things and her interest in technology, she found a middle ground and graduated with honors in New Media Design from Centennial College, Centre for Creative Communications. Her work has been exhibited in various shows & galleries in Toronto including the Royal Ontario Museum & the Japanese Canadian Cultural Center.
ARTIST'S STATEMENT
"My work is mostly symbolic because I believe that art, to be a true gateway of expression, must in some way or form, invoke in the viewer a sense of wonder, as if they have been transported to another world. This world is both strange yet familiar due to the presence of ubiquitous symbols which are commonly ingrained in many cultures representing people's core universal values, fears and aspirations.
To me, beauty in art is not simply 'canvas deep'. If the piece can invite the viewer to look deeper beyond the canvas's tangible depth, beyond the superficial brushstrokes covering its surface, by speaking to the viewer in the cross-cultural language of colors and symbols, then and only then do I feel that my work truly breathes life."
Fantasy and symbolism have always been central in most of her work's themes which includes visual art, poetry and other writings. Her inspiration stems from her multicultural heritage, literature, mythology, spirituality, dance, music and her study of various cultures. Active in Toronto's arts and culture scene, she has worked in fashion backstage as a show assistant and as a model on the runway and in photoshoots for Canadian designers including Embody & Glyphiks Designs. www.michellechermaine.com