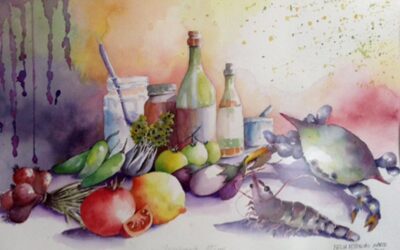 Inang...Sinigang!!! Artist: Nelia Tonido Medium: Watercolour on Paper Size: 15.5" x 21" 2018 For Sale
read more
Nelia Tonido
(Former PAG President)
Holds a degree of Bachelor of Science in Architecture from the University of Sto. Tomas, Manila, Philippines.
A long time companion to husband Frank on all his PAG activities, Nelia had been influenced and inspired by the talented group, especially by Frank Tonido, Art Cunanan, Romi Mananquil, Rol Lampitoc, and Isabel Grosvenor. To enhance her passion, she took lessons from Art Cunanan and guided by Frank Tonido, they became her mentors.
She paints lyrical renderings of urban and country scenes, botanicals expressing natures beauty and impermanence. Nelia does not have to go far for her subjects, her backyard is the usual source of her inspirations.
She creates her paintings on soft washes of watercolours being the medium she used on her interior design renderings presented to clients on her corporate days.
In addition to her paintings, she delights in the 3-D art of Cake Decorating and had awards when she used to be a member of the Canadian Society of Sugar Artistry.
She has been the Coordinating Secretary of the Phil Artists Group since 2006.
She can be reach at (905) 273-6121, or email at frank_and_nel@hotmail.com