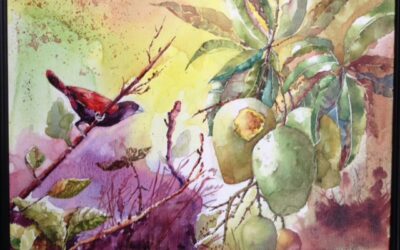 Ang Mayang Pula at ang Manggang Maasim Pa Artist: Nelia Tonido Medium: Watercolour on paperr Size: 14.5" X 21.5" Sold 2014
read more
Nelia Tonido
Nelia Tonido graduated with a Bachelor in Science in Architecture from the University of Santo Tomas. She worked as a receptionist for a major Danish office furniture and machines company in Manila and was in charge of floor sales. She was also responsible for creating and rendering in watercolour all the interior design presentation drawings for all office layouts presented to the company's clients. After moving to Canada, Nelia often accompanied her husband Frank to PAG activities. Nelia would eventually become an artist member of PAG and was elected as the first female President on the PAG. She held office as PAG President for two consecutive terms (2014-2016 and 2016-2018).
In 2016, Nelia and her husband Frank were featured in the Canadian Immigrant Magazine alongside four other immigrant couples who had achieved success in business. The article also focused on their combined artistic achievements and they were lauded as "The Artists Couple".
Nelia's preferred subjects are botanicals. She continues to create art with watercolour as her medium of choice and is an active member of the PAG.
She can be reach at (905) 273-6121, or email at frank_and_nel@hotmail.com