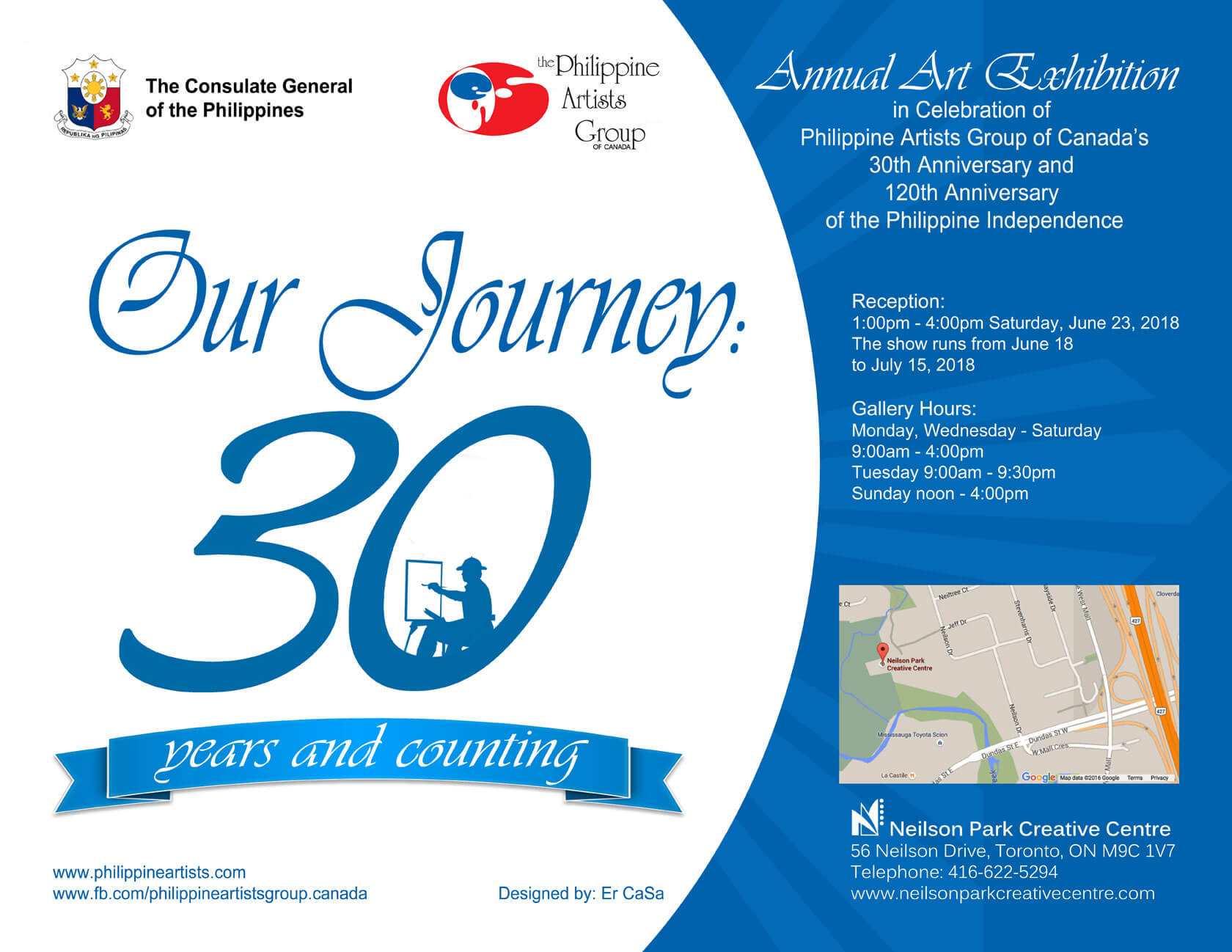 An annual Art Exhibition in Celebration of the 30th Anniversary of the Philippine Artists Group of Canada and the 120th Anniversary of the Declaration of Philippine Independence.
Our Journey: 30 years and counting
The heart of the immigrant resides between two countries. Filipino-Canadian artists are no different. As the old country pulls them back, the new opens its arms and envelops them. The longing for the past and the love for the new are reflected in this special 2018 Exhibit.
The Philippine Artists Group of Canada (PAG in short) marks its 30th year anniversary with a retrospective of its members' art over the years, as well as the members' latest offerings. The old country is reflected in paintings featuring subjects close to the Philippine heart. They hang side by side with paintings of Canadian subjects.
Another special feature is a wall of smaller paintings, offered at special prices.
PAG is Canada's preeminent and oldest Filipino-Canadian art club, officially formed on June 12, 1988, to foster fellowship among its members and to promote visual art to the Fil-Can community.
Neilson Park Creative Centre
56 Neilson Drive, Toronto, ON M9C 1V7

---
Telephone: 416-622-5294
www.neilsonparkcreativecentre.com

---
Formal Opening:
1:00PM-4:00PM, Saturday, June 23, 2016
The show runs from June 18 to July 15, 2018
Gallery Hours:
Monday, Wednesday – Saturday 9:00AM – 4:00PM
Tuesday 9:00PM – 9:30PM
Sunday 12:00noon – 4:00PM