Nerissa Pineda
I like my paintings to be exuberant, full of life, colourful, sometimes whimsical, many times, joyful. That's how I prefer to see the world and that's how I like to paint it.
I mostly use acrylics, but at times, would also reach for my pastels, or oils, or watercolours—I like variety. My subjects are also varied – portraits of people, animals, landscapes, flowers, abstracts. The latter holds a special place in my heart – I like intertwining colours, shapes, visual textures, to arrive at a composition that is hopefully expressive, balanced and unified. I love abstracts (mine or others') hanging on my walls – they make what is potentially drab, magical.
I accept commissions for portraits, biographical paintings (like you in your travels), animals. My abstracts, my babies, take a long time to create, and I try to keep them. However, I'll be happy to hand paint variations on the original for you. This has its merits –as the thinking has already been done, the variation would be more affordable. Plus, I could try to accommodate your desired canvas size (larger or smaller, but keeping the same proportions) and perhaps even your general colour preferences. If you like a different abstract style or look, show me an example, and I might be able to create a new, original composition for you.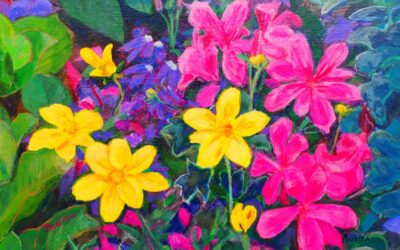 Flowers yellow and fuchsia Artist: Nerissa Pineda Acrylic on wood panel 16" x 12" 2021 For sale (framed)