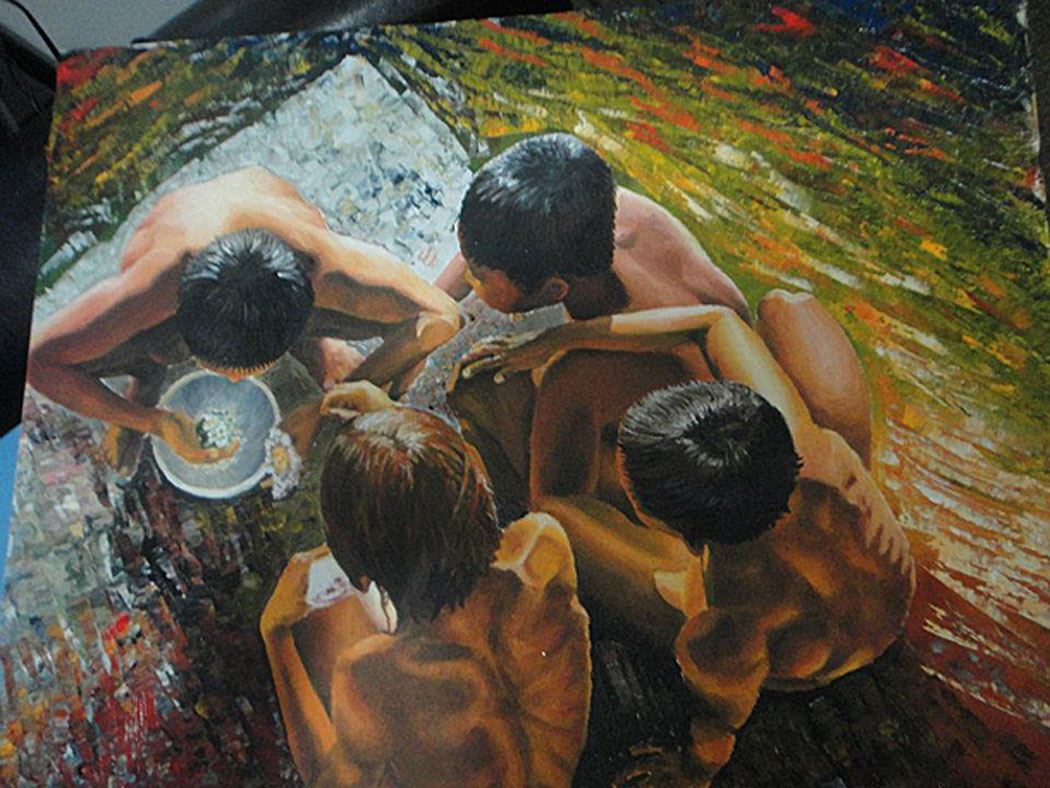 Mark Edison Salinas
Mark Edison Salinas discovered the world of paints and brushes when he won the elementary on the spot contest, since then his love of art grew. He became the school paper cartoonist from elementary through college. The intensity to pursue his craft was brought into a halt and decided to forgo his desire to take a fine arts course. Year 2008 his whole family migrated to Canada, and after three years he met an inspiration that encouraged him to go back to his first love, ART. He took workshops at Visual Arts Mississauga, and at the same vicinity he met Frank and Nelia , who was at that time staging an art show. They invited him to show his artworks to the Philippines Artist Group of Canada. He earned the nods of the members of the group and became the youngest member.
Mark is a self taught artist that pursues every best possibilities to showcase his talent. He loved painting figurative which was greatly influenced by the two masters he idolized the most, Leonardo di ser Piero da Vinci and Rembrandt. He used various form of mediums from pencils to pastels and eventually trying his hands on Oils. He loves to experiment and enjoys the results of his trial and error. He knows that at this stage of being an artist there are still a lot more to learn and more room for improvements. He welcomes the opportunity to help him develop his crafts, and for that he accepted an offer from Romi Mananquil, PAG Founder to help him with the Sining-Saysay mural that will be put in exhibit in the Big Dome, Araneta Coliseum.
Mark conceptualized his work through looking at the depth and meaning of life. He is more involved in creating an artwork that depicts social and cultural point of view. It gnawed his creativity to play and create something that will make the viewer look at the canvas and envision a concept that is beyond the artworks, a message worth pondering. His technique is to learn from his mistakes and to discover the many facets of his own artistry.